Docker Enterprise
The fastest way to securely build, share and run modern applications anywhere
WEBINAR
What's new in Docker Enterprise 3.0
Docker Enterprise 3.0 is the next generation Docker Platform, designed to drive high-velocity innovation across your entire application portfolio.
WATCH NOW
Accelerate modern application development and delivery
Docker Enterprise is the industry-leading, standards-based container platform for rapid development and progressive delivery of modern applications. Only Docker Enterprise delivers a consistent and secure end-to-end application pipeline, choice of tools and languages, and globally consistent Kubernetes environments that run in any cloud.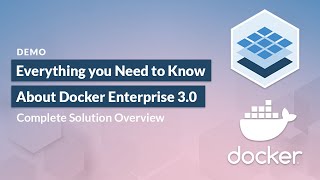 Select any component in the diagram below to learn more.
Securely build, share and run modern applications anywhere
Rapidly build containerized applications and microservices in a secure way while leveraging existing tools and skill sets.
Seamlessly find and securely share certified and approved content leveraging Docker Hub, the world's largest library of container content and Docker Trusted Registry (DTR) your organizations secure, private registry.
Deploy, manage and secure modern applications with globally consistent Kubernetes environments that run on any cloud.
Move Faster
Simplified and streamlined workflows deliver the fastest time-to-production for modern applications.
Docker Enterprise delivers a consistent end-to-end platform to build, share and run modern applications for Kubernetes.
Accelerate developer onboarding and improve productivity, leveraging existing skill sets
Simplify and streamline processes across dev and ops
Rapidly deploy, manage and update production-ready Kubernetes environments, without requiring deep expertise
Adopt new technologies on your own timeline
Flexibility to use the tools, languages, frameworks, infrastructure and operating systems of your choice.
The only independent and standards-driven container platform that leverages organizations' existing IT investments in infrastructure, tools and people.
Select the tools, programming languages and frameworks that make sense for each project
Support a diverse set of application stacks and infrastructures using validated and secure container content
Run applications in any data center or cloud, on any architecture and any OS
Ensure security without slowing down innovation
Continuously ensure secure governance and compliance over the complete application lifecycle, without slowing down innovation.
Docker Enterprise delivers security in any environment – on-prem, hybrid and cloud – without getting in the way of your ability to bring applications to market quickly.
Comply with corporate and architecture standards, without impacting developer productivity
Trust the provenance of all applications and ensure secure separation of concerns
Ensure security across distributed and hybrid environments—100% portable security model across any infrastructure
"At Liberty Mutual, Docker is a key part of our journey to the cloud and our application modernization."
— Mark Cressey
Senior VP and GM of Hosting Services, Liberty Mutual
READ THE CASE STUDY
Docker Enterprise Resources
Datasheet
Docker Enterprise
LEARN MORE
On-demand Webinar
Learn how Docker Enterprise delivers success
WATCH NOW
White Paper
The Definitive Guide to Container Platforms
READ THE WHITE PAPER