Kubernetes Software from Mirantis
Mirantis Cloud Platform includes a pure play distribution of Kubernetes for enterprise-grade container orchestration.
CONTACT SALES
Manage Containers with Zero Lock-in
Offer container scheduling and orchestration to your developers with Kubernetes, "an open-source system for automating deployment, scaling, and management of containerized applications" (source: kubernetes.io). There are four reasons why you should consider our distro:
Lifecycle Management
Unified Cloud
Hardening
Infrastructure Included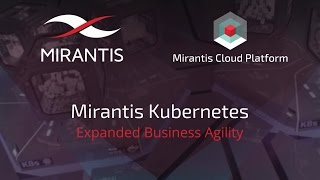 Lifecycle Management
Simplify Kubernetes lifecycle management with Mirantis. Our fully integrated DriveTrain lifecycle management solution simplifies initial deployment and addresses Day 2 post-deployment operations.
Unified Open Cloud
Unlike other providers, Kubernetes from Mirantis ships as part of the Mirantis Cloud Platform ( MCP ), a complete private cloud solution that includes OpenStack, Ceph, SDN, DriveTrain (lifecycle management) and StackLight (Operations Support System). Kubernetes can be used along with other MCP components to provide your developers with a unified self-service cloud for virtual machines, containers, bare metal, software defined storage and virtual networking.
Infrastructure Included
Kubernetes is a container orchestration framework that expects compute, storage and networking to be provisioned already. Unlike other distributions that leave infrastructure provisioning as an "exercise to the reader", our Kubernetes includes a robust bare metal or virtual machine infrastructure stack for the cluster to run on, saving you substantial headache and operational expense.
Kubernetes & Docker Courses and Exams
Intended for Software developers, Architects and Deployment engineers seeking to learn how to use Docker for developing, shipping and running applications as well as learning how to use Kubernetes to automate deployment, scaling and management of containerized applications. This course requires advanced proficiency in Linux, an understanding of the software development lifecycle, a general understanding of virtualization and experience with networking concepts. Students are also able to take the KCM100 exam on the third day of class to become Kubernetes & Docker Certified.
The lectures provide an introduction to Docker and Kubernetes. Students will learn how to use Docker for developing, shipping, and running applications.
The labs provide hands-on experience through the installation of a Docker and Kubernetes cluster from scratch.
Register Today