Kubernetes Software from Mirantis
Mirantis Cloud Platform

Components
Manage Containers On-demand with Zero Lock-in
MCP brings flexibility and a single platform approach with Kubernetes on bare metal. MCP enables cloud-native, container-native and microservice-based workloads on agile Kubernetes container environments.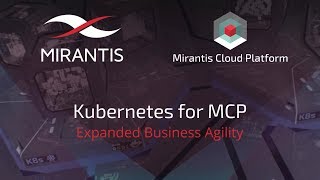 MCP with Kubernetes
Lifecycle Management
Simplify Kubernetes lifecycle management with Mirantis. Our fully integrated DriveTrain lifecycle management solution simplifies initial deployment and addresses Day 2 post-deployment operations.
Hardened Software
Mirantis performs comprehensive testing on Kubernetes with a variety of tests to harden our distro so that you get a stable, scalable and resilient cloud that you can put into production use with confidence.
Unified Open Cloud
Unlike other providers, Kubernetes from Mirantis ships as part of the Mirantis Cloud Platform (MCP), a complete private cloud solution that includes OpenStack, Ceph, SDN, DriveTrain (lifecycle management) and StackLight (logging-monitoring-alerting). Kubernetes can be used along with other MCP components to provide your developers with a unified self-service cloud for virtual machines, containers, bare metal, software defined storage and virtual networking.
Infrastructure Included
Kubernetes is a container orchestration framework that expects compute, storage and networking to be provisioned already. Unlike other distributions that leave infrastructure provisioning as an "exercise to the reader", our Kubernetes includes a robust bare metal or virtual machine infrastructure stack for the cluster to run on, saving you substantial headache and operational expense.
Mirantis Enterprise Support for Kubernetes
If you've already deployed K8s on premises with another distro, Mirantis offers high-quality support for brownfield implementations, featuring industry-leading open source expertise and enterprise SLAs.
Learn More
Kubernetes & Docker Bootcamp + Exam (KD100)
The Kubernetes and Docker Bootcamp (KD100) is the perfect introductory course for Software Developers, Architects, and Deployment engineers seeking to learn how to use Docker for developing, shipping and running applications as well as learning how to use Kubernetes to automate deployment, scaling, and management of containerized applications. Students are also able to take the KCM100 exam on the third day of class to become Kubernetes & Docker Certified.
Register Now
Kubernetes & Docker Bootcamp II (KD200)
The Kubernetes and Docker Bootcamp II (KD200) course guides students in detail through the topics covered by the exam, and helps ensure they are fully prepared to successfully achieve their CKA certification. KD200 is designed for deployment engineers and cloud administrators who want to acquire complete knowledge in using Kubernetes for deploying and managing containerized applications, and when combined with KD100, is the most comprehensive Kubernetes training available on the market today.
Register Now
Accelerated Kubernetes & Docker Bootcamp (KD250)
The Accelerated Kubernetes and Docker Bootcamp (KD250) is a consolidation of our famous Kubernetes and Docker Bootcamp I (KD100) and Kubernetes and Docker Bootcamp II (KD200) with added content to prepare the student for the Certified Kubernetes Administrator (CKA) exam and still fit into a single week session.
Register Now