Maximizing Uptime, ROI and Value of Private Cloud
Business requires production private clouds to be available! Every lost minute means a potential loss of thousands of dollars in productivity, business transactions, even sales. This places high emphasis on the tooling to identify and address issues in the shortest amount of time, ideally before the problem becomes serious. Predicting past trends and future use to determine hardware acquisition before end users are unable to provision the resources they need are also key to maintaining acceptable response times. Finally, you need to know that your cloud is providing the business value you had predicted and your management team is expecting.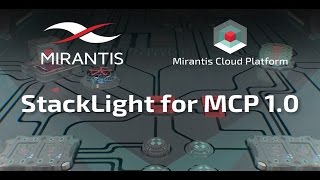 Open-Source Logging-Monitoring-Alerting for Mirantis Cloud Platform (MCP)
Mirantis StackLight provides the insight to maximize the availability of your cloud, whether under Mirantis Managed OpenStack (MMO) management or being managed by your IT organization. StackLight can perform accurate capacity planning and help improve the business value of the cloud through fault detection and isolation, performance optimization and governance capabilities. StackLight is a 100% open-source distributed logging, monitoring and alerting software solution. It is specifically designed for MCP by providing optimized collectors, dashboards, alarms, faults and event correlation. StackLight includes beautiful analytics visualization and is built to be lean, fast, scalable and extensible.
Logging
Along with the collector, StackLight utilizes Elasticsearch and Kibana to intelligently collect relevant log information, correlate events and create custom views for visualization. The retention period is customizable. The logging solution can be scaled up in response to a growing cloud without data loss or reinstallation.
Monitoring
StackLight monitors the health of your MCP cloud and provides relevant metrics and events. It is based on InfluxDB and Grafana, and provides precise indication of which service caused the failure to slash the time required to solve issues. Similar to logging, the retention period is customizable.
Alerting
StackLight utilizes Sensu and Uchiwa for providing low latency alert responses to events. There are built-in alerts on Anomaly and Fault Detection (AFD) metrics and can be extended to create custom alerts. The alarms can be exported to other systems via standard protocols such as SNMP. Sensu and Uchiwa instances can be clustered to provide for high-availability.
Seamless Transfer to Your Team
When Mirantis operates your cloud with MMO it is a seamless transition upon transfer to your IT organization to utilize the same in-place tooling and same in-place operating procedures. 100% Open Source, 100% vendor agnostic, 100% up to you